Sabtu, 05/05/2012 22:16 WIB
Adam Yauch Beastie Boys Wafat, Para Artis Rock dan Metal Pun Ikut Berduka
Usianya 47 tahun dan menderita kanker kelenjar getah bening sejak 2009.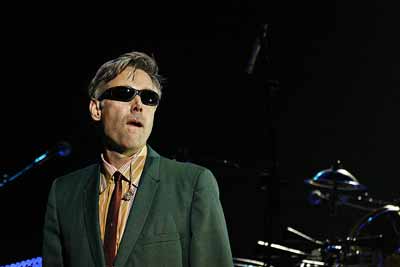 New York City
- Adam Yauch atau yang juga dikenal sebagai MCA, pendiri sekaligus rapper, pemain bass, pemain keyboards, pencipta lagu dari trio legendaris Beastie Boys dikabarkan wafat pada Jumat (4/5) kemarin dalam usia 47 tahun.
Hingga kini belum diketahui penyebab utama kematian MCA namun diduga karena kanker kelenjar getah bening yang dideritanya sejak 2009.
"Dengan sangat sedih kami mengabarkan bahwa musisi, rapper, aktivis dan sutradara Adam 'MCA' Yauch, pendiri Beastie Boys dan juga Yayasan Milarepa yang menggelar konser amal Tibetan Freedom Concerts dan perusahaan film serta distribusi Oscilloscope Laboratories, telah meninggal dunia di kediamannya di New York City pagi ini setelah hampir tiga tahun berjuang melawan kanker," tulis sebuah pernyataan resmi dari Beastie Boys.
Yauch yang menganut agama Budha ini meninggalkan seorang istri yang berasal dari Tibet, Dechen Wangdu serta seorang anak perempuan berusia 14 tahun, Tenzin Losel.
MCA membentuk Beastie Boys pada tahun 1979 bersama Mike "Mike D" Diamond dan Adam "Ad-Rock" Horovitz yang memainkan musik hardcore punk tak lama setelah dirinya menyaksikan konser Black Flag. Masuk dekade awal 80an mereka kemudian mulai bereksperimen dengan musik hip-hop yang nota bene saat itu masih di dominasi oleh kaum kulit hitam.
Pada tahun 1986 Beastie Boys merilis album debut bertitel
Licensed to Ill
yang diproduseri oleh Rick Rubin (yang juga sempat menjabat sebagai DJ trio ini) dibawah label rekaman Def Jam Recordings yang dibentuk oleh Rubin bersama Russel Simmons.
Album tersebut kemudian mencetak sejarah sebagai album hip-hop terlaris dan pertama yang berhasil bertengger di posisi pertama Billboard.
Album-album lainnya dari Beastie Boys antara lain
Paul's Boutique
(1989),
Check Your Head
(1992),
Ill Communication
(1994),
Hello Nasty
(1998),
To The 5 Boroughs
(2004),
The Mix-Up
(2007) dan terakhir
Hot Sauce Committee Part Two
(2011). Pada perjalanannya kemudian Beastie Boys telah menjual lebih dari 40 juta keping album-album mereka di seluruh dunia.
Beastie Boys juga belum lama ini telah dilantik masuk ke Rock and Roll Hall of Fame di Cleveland, AS bersama dengan Guns N' Roses, Red Hot Chili Peppers hingga Small Faces/Faces. MCA saat itu berhalangan hadir karena masih dalam perawatan sakit dan hanya mengirimkan surat yang kemudian dibacakan oleh kedua rekannya, Mike D dan Ad-Rock.
Kabar kematian MCA ini ternyata juga membawa duka yang sangat mendalam, tak hanya bagi artis-artis dari kubu hip-hop dunia seperti Eminem, Nas, Chuck D (Public Enemy), hingga LL Cool J.
Para musisi rock dan metal dunia ternyata juga menyatakan rasa duka cita mereka yang mendalam atas wafatnya Adam Yauch yang diekspresikan via akun Twitter masing-masing.
"Prayers and all the love I could ever muster for Adam Yauch. What a beautiful man. God bless his beautiful soul. A class act all the way."
–
Flea, Red Hot Chili Peppers.
"Sad day. MCA was fucking awesome. RIP man. We'll miss you very much."
–
Slash, Velvet Revolver

"RIP MCA. Cancer, you're an asshole."
–
Anthrax
"To add my 2 cents on the passing of Adam Yauch, he was a revolutionary in his life and his art and I'm happy to have shot hoops with him. He was also a really nice guy. Peace to his family and friends and of course Adam and Mike."
–
Scott Ian, Anthrax
"Rest In Peace Adam 'MCA' Yauch of the Beastie Boys. My condolences to his family and friends."
-
Dave Mustaine, Megadeth
"We're sad to learn about the death of MCA. Our condolences to the Beastie Boys and Adam's family."
–
Linkin Park
"A very sad day indeed. Adam Yauch RIP."
-
Fred Durst, Limp Bizkit
"Listened to the Beastie Boys since I was a kid. RIP Adam (MCA) Yauch. You will be missed."
-
David Draiman, Disturbed
"Beastie Boys broke a lot of rules and broke a lot of ground. Bummed I never saw 'em. MCA has gone on to his final egg raid on mojo. Peace bro!"
–
Randy Blythe, Lamb of God

"RIP to a hip hop legend and my favorite beastie boy.... MCA"
-
Freddy Cricien, Madball

"RIP MCA of the Beastie Boys. My favorite show ever was seeing them at a small club in Boston on 'Check Your Head' tour. Thanks for the music."
-
Brian Fair, Shadows Fall
"Very sad to hear of the passing of Adam Yauch / MCA."
-
Justin Broadrick, Godflesh, Jesu
"Our hearts go out to MCA's family and friends in their time of loss. We had the pleasure of doing a small tour with the Beastie Boys under their hardcore name QUAZAR. They were the most down-to-earth and fun guys. Thanks for all the great times and music and all your humanitarian work you've done. Rest in peace, brother. A sad day indeed."
–
Sick Of It All
"Cause You Can't, You Won't And You Don't Stop, MCA Come And Rock The Sure Shot - RIP Adam Yauch!"
–
Living Colour
"Another great one has passed. RIP MCA. Truly one of the best at what he did."
-
STYX
"RIP MCA...you showed us how to 'fight for the right', long live the Beasties!"
-
Jeff Scott Soto, Talisman, Journey, Yngwie Malmsteen
"Adam Yauch has passed. As sobering news as you'll ever recieve. This part of life (death) is resolute — causes one to consider their own life, and the way they're living it. Today is a grey day. It feels as if their is no escape... Adam was a guy who brought happiness and energy to so many. That is why the news of his passing is so stifling. Bon voyage, Adam."
-
Perry Farrell, Jane's Addiction
(RS/RS)
Hasil Rating Pembaca: